I'm regularly asked for recommendations on toys so I thought I'd put a page together for it, which I'll slowly add to as I think of stuff.
Firstly there's one main store that I buy all my own toys from, and I have a LOT of toys! That store is Lovehoney. They ship to over 50 countries and it should figure out the right one for you (or if not click the change country button on the landing page).
We've been using these guys for years and years. The service is amazing, the website is the best out there, and you get a year's no quibble guarantee on everything you buy, so you really can't go wrong. Literally, it's not just if things break. If you decide you just don't like a toy you bought, you can send it back within a month and they'll swap for something else – it's extraordinary.
They have some amazing special offers too which change regularly but you can find the latest offers here.
Also check this page, I'll try to flag up if they have any secret special offers I find out about:
Sex toy essentials
Vibrators
If there's one toy you need to take your edging and denial to another level, it's the vibrator. The place you want to start is with a nice simple bullet vibrator, and one of the best range is by a company called Rocks Off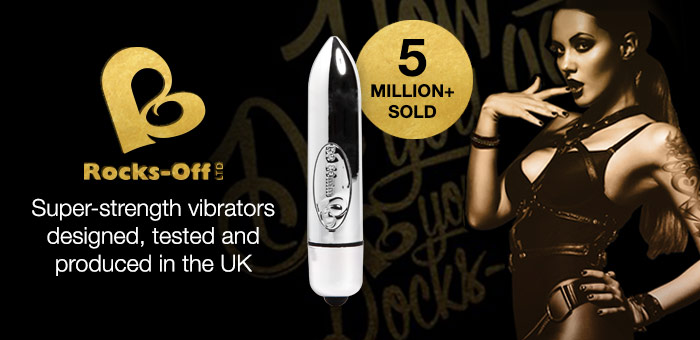 If you've got the money to spend then the USB rechargable vibe is the one I'd recommend most of all. It's still very affordable at £30. The vibrations from this little thing are insane on full power, but low and medium levels are perfect for teasing and edging, while the four different patterns will drive you crazy, in a very good denial way.
Their battery operated ones are even cheaper, they start at £10 but that's just for a single speed version. For just £3 more you can get all 7 vibration patterns of the USB version – the 'Erotic Ink' version for example. Great bargain but don't underestimate the convenience of the rechargeable one, worth the extra if you can afford it.
Rocks Off Vibrators on Lovehoney
Dildos
A dildo is one of next additions you should prioritise. The following is my first recommendation if you haven't had one before. It's a nice length, 7 inches, it's super smooth silicon, just ridiculously soft to the touch, you won't believe it, and most of all it has a suction cup on the bottom. The suction cup is so useful because you can stick it to flat surfaces and really have a lot of fun with it, hands free.
Lovehoney 7 inch Curved Silicon Suction Cup Dildo
This is the one I usually recommend. It's amazingly soft and smooth, but firm enough to have fun with. It's nicely tapered so if you're new to dildos you can just use the thinner tip, but the curve on the whole item (you want the curve towards your tummy when inside you) makes it delicious for rubbing your g-spot as well as being long enough to fill you very nicely if you take it all in.
It's not got balls on it which in my opinion is a good thing as they are usually more in the way than useful on a dildo. But most of all that base is a REALLY good suction cup which will stick to most flat surfaces. I wrote a post on it that here.
Butt Plugs
So, anal is one of those things that a lot of people have mixed feelings about. However, my experience, time and again, is that if you're into denial, and are prepared to try it, then it works REALLY well as an addition to the denial experience.
Most butt plugs are really badly designed though. I swear most toy designers don't take any thought as to how the human body actually works. So even if you've tried one before and not liked it, I suggest you look again. The plugs that look cute in the pictures, the pretty round gems etc. They look great when you're bent over and it's on display, they even feel like okay like that. But try and stand up, when your butt cheeks clench together… you suddenly realise it's not a very good shape at all. In fact usually the metal edges dig into your poor cheeks and make it basically unusable unless you're crawling around on all fours (which does have it's merits).
But, the idea with a butt plug is more than looking pretty, It's to give you a wonderful, kinky secret which reminds you all day that you're denied/controlled/horny/owned/fill in the blank. As such, comfort is the number one priority. There is no more comfortable butt plug than these:
This is the size of the small, how cute is that!
These are silicon, they are absolutely adorable, they have a nice long neck which is important for it sitting comfortably in you, and the base, while round, is super flexible so it moulds to the shape you want it to be when you stand up!
The little sticky out bit is because it's also a suction cup on the bottom (regular readers will know I'm a big fan of suction cup dildos) and that's for pulling it away when it's stuck on something. For the smaller two at least honestly you can do that just as well with a fingernail so you can just snip it off if it's not useful. Honestly with the small one the suction cup itself is a bit redundant, it's just not big enough to fuck like that. Great for the large one though!
The GREAT feature with these plugs though, is they are hollow and have a small metal ball inside that silently moves around, and so it subtly vibrates when you move and you are constantly, nicely, reminded you're wearing it.
Speaking of size, a lot of you will be naturally tempted to go for the smallest, and that's fine, it's cute, it fits really well, it's very easy to slip in (always use some good water based lube for comfort).
However, almost always you will find yourself wanting a bigger one, just trust me on this. Once you try that and find you like it, there is a STRONG desire to feel that bit fuller, which the medium one is perfect for. I mention this now because Lovehoney almost always run a discount on these plugs if you buy two, so if you can afford it my strong recommendation is you get the small and the medium at the same time, but if you're brand new to anal play the small isn't TOO small (which is the problem with most small plugs, they just pop out which is AWFUL).
Check them out and read the reviews at Lovehoney
I asked Snowflake for her thoughts on it (both she and Diva have the small one and wear it regularly).
Well it was really intimidating at first, but it's not that big, and it's VERY smooth, easy to put in and take out…Nothing scary there. 🙂 Using it when denied is…Interesting to say the least. So close to the hole you want to be stuffed in, but so far away. Every time I walk around that jiggle ball is going nuts, reminding me that I'm denied, how long I've been denied, how naughty I'm being, and how much I love that…Now I love it. In fact I wish he'd made me wear it more.

God, that thing still keeps me dripping..Lol. In fact…I'm still strongly considering buying the medium size one
Also, don't forget to check out my posts on DIY Sex Toys!